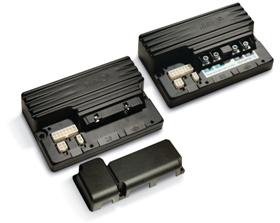 Rhino 2
Rhino 2 Scooter Controller
Building on the legendary performance of Rhino, Dynamic Controls delivers the most powerful and advanced scooter controller yet with Rhino2. The Rhino2 controllers offer superior drive control, optimised ride comfort and a high level of configuration, making it suitable for a wide variety of scooters.
Added to the Rhino2 range is a new more powerful 180A peak current (200A boost current) controller. The Rhino2 range delivers powerful boost current when you need it, peak stated current for a minimum of 3 minutes (60s for DS180) and an incredible continuous current rating, all in a compact, rugged design.
Designed to closely match the performance of the original Rhino, the Rhino2 Classic range takes advantage of the enhanced features of Rhino2, whilst giving OEMs more options to match the optimal controller to a scooter. The Rhino2 Classic range delivering a powerful boost current and a peak current time up a minimum of 60s.
With the original and Classic Rhino2 variants you can future proof your products by offering your customers the very best of safety and security with dual decode signal processing. Your dealer networks will appreciate the advanced battery management and feedback, designed to ensure that end users maximize their battery's life.
Part Number
Description
Peak Current
Peak Current Duration
Continuous Current
Boosted Current (10 Sec)
Rhino2 Classic range
DS70C
70 Amp Controller
70 Amp
60 seconds
25 Amp
90 Amp
DS110C
110 Amp Controller
110 Amp
60 seconds
43 Amp
130 Amp
DS160C
160 Amp Controller
160 Amp
60 seconds
50 Amp
180 Amp
Original Rhino2 range
DS90
90 Amp Controller
90 Amp
3 minutes
36 Amp
100 Amp
DS120
120 Amp Controller
120 Amp
3 minutes
48 Amp
140 Amp
DS160
160 Amp Controller
160 Amp
3 minutes
64 Amp
180 Amp
DS180
180 Amp Controller
180 Amp
60 seconds
64 Amp
200 Amp*
What are the features and benefits of the Rhino 2?
Industry leading power & performance

Advanced safety and battery protection

Compact and durable full metal casing (IP54)

Thermally optimised design

Smooth power delivery

Automatic speed adjustment to compensate for changes in driving surfaces

Fully programmable drive profiles

Motor open and short circuit testing while driving, detects broken brushes

Improved downhill speed control to maintain or reduce speed as desired
Look beyond the obvious
What sets us apart is our deep understanding of people, their needs, their aspirations and translating these into life-liberating insights that drive innovation and enhance lives.